Welcome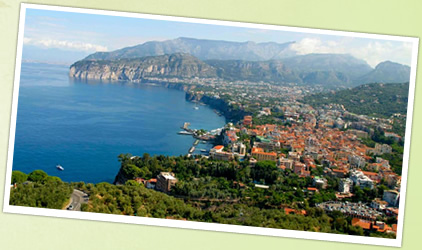 Being in the tourist sector since 1979, I 'm able to offer all that tourists wants when they comes in the Sorrento Coast, Pompeii, Amalfi Coast, Naples, Pompeii, Rome, etc.
Our main job is to give at all tourists an holiday with a big relax offering all type of comfort.
My company is situated in Sorrento (near Positano), a little place in the bay of Naples (Sorrento coast), and its geographical position has privileged this town to become a base point for excursions all round Campania and others places of Italy.
I speak very well English, French, and German. I have got all types of vehicles, car, limousine, bus, mini vans, with all types of comfort and air conditioning.
Transfers from and to anyplace, Rome (Fiumicino airport FCO), Naples (Capodichino airport), Civitavecchia port
Car tours in Sorrento, Pompeii, Vesuvius
Excursions on Amalfi coast, Ravello, Positano, Sorrento, Pompeii ruins and Vesuvius
I organize tour with cabin cruiser. Sorrento "gozzo", exceptional finishing with wood
I can help you to find a villas reservation in Sorrento, Positano and Amalfi coast.